Sabbath School

Sabbath School is the time during which we offer Bible Study classes for all ages. Feel free to join the Adult class of your choice. Classes meet at 9:15 for a combined song service in the Sanctuary, then divide for study at 9:30.


| | | |
| --- | --- | --- |
| Teacher | Location | Topic |
| Charline Hughes & Janice Little | Secretary's Office | Ministry of Healing |
| Jean Gren & Dave Davies | Library | Adult Quarterly |
| Eldon Lemons | Sanctuary | Adult Quarterly |
| Kevin Jepson & Rod Stewart | Conference Room | Bible Study |
| Pastor Mancia & Alex Castillejos | New Believers | Pastor's Office |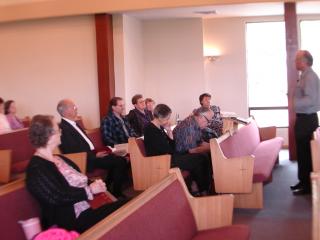 General Worship Service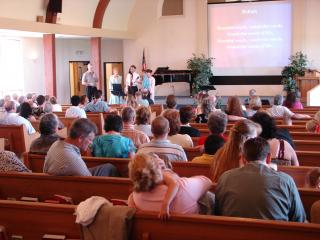 Every Saturday at 10:50 a.m. we hold a Worship service with music, Children's Story and a spiritually enriching talk to help you grow in your relationship with Jesus.

On the first Sabbath of each month, everyone is invited to partake of a Fellowship Luncheon in the newly remodeled Fellowship Hall. This vegetarian meal is a wonderful experience of communing with fellow believers and friends. On some other Sabbaths of each month, a "Common Meal" is hosted by a family or small group, sometimes meeting at church member's homes and other times meeting in the Fellowship Hall. The location of the Common Meal will be announced in the bulletin. Visitors are always welcome to join in any of these Sabbath Meals. Greeters can provide you with directions and a map if the meal is held away from the church.


Mid-Week Services
Midweek meetings are held on Wednesday evenings at 7:00 pm at the church. The Prayer Group is presently studying a variety of spiritual disciplines and meets in the Conference Room. Pathfinders meet in the fellowship hall. All are welcomed.


No matter which of our services appeal to you, we pray you will receive a blessing from the worship experience you find with us.

We look forward to worshiping with you soon!